Kathy Baker, LPC, Certified TF-CBT
Licensed Professional Counselor in VA & FL.
Kathy is a Licensed Professional Counselor. She believes change can be exciting...and scary but finding the right person to assist you through the change is important. She can help you deal with issues of anxiety, depression, poor self-esteem, relationship conflicts, or marital issues. She can guide you to a more peaceful and self-fulfilled place in your life. She has worked with adults, couples and families for 22 years. It's an adventure for her to watch a person grow and reach their full potential.
Soheila Alizadeh- Resident in Counseling
Soheila is a graduate of Old Dominion University's Mental Health Counseling program. She is originally from Iran and also speaks Farsi. She has experience working with refugees, children, adolescents, and adults. Soheila believes in meeting individuals where they are and providing a space where clients can communicate their concerns, feelings and navigate through these challenges. She likes to incorporate evidence based principles such as Cognitive Behavioral Therapy (CBT) and Dialectical Behavior Therapy (DBT).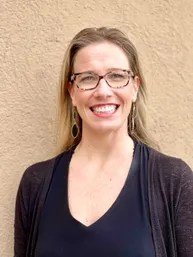 Sarah Wampler, LPC

Licensed Professional Counselor in VA & FL.
Sarah Wampler is a Licensed Professional Counselor in the state of Virginia, working with individuals, couples, and families. Sarah earned a BA in Conflict and Mediation studies and a master's degree in Marriage and Family Therapy. Sarah has a passionate, empathetic heart to help clients heal in the context of their everyday relationships. Through trauma-informed care (EMDR/IFS), narrative therapy techniques, family systems analysis, and skill-building exercises (DBT), Sarah works with individuals and families experiencing anxiety, mood and adjustment disorders, trauma and stressor-related disorders, dissociative disorders, and relational conflict.

Sade' Patterson, MSW, Supervisee in Social Work
Hope. A feeling of expectation and desire for a certain thing to happen [Oxford Dictionary].
Sade' believes that hope paired with resiliency and effort is a catalyst for change. She understands that some phases or situations in our journey can be overwhelming, however, has witnessed people locate their innate ability to achieve a more balanced and happier life. Her focus is to be compassionate and provide guidance on your path to elevating to your higher self. Sade' has professionally served civilians and our military for the last 7 years. Sade' authentically applies Client Centered, Cognitive Behavioral, Rational Emotive Behavior, Strengths Based and Solution Focused therapies. Sade' encourages, "wherever you are on your journey, take a deep breath, give yourself grace, know that you are deserving and remember, "it's a marathon not a race." She looks forward to connecting with you, identifying your needs and holistically helping you in the process of navigating your way to a healthier life.
Robert "Bob" Nixon, LPC, CSAC
*Not accepting new clients*
Bob is a Licensed Professional Counselor as well as a Certified Substance Abuse Counselor. He has over 40 years' personal experience in 12 Step Recovery and working professionally in the field of addiction and substance abuse. He believes much of what ails us these days is based on a lack of connection and sense of belonging. His style is based on building a connection and trust with his clients. He believes a close, personal, honest relationship is what really makes therapy work. Bob enjoys working with individuals, families and couples.
Rebecca Provost, LPC
Rebecca is a Licensed Professional Counselor experienced in individual therapy helping clients ages 18 and up effectively manage symptoms of depression, anxiety, grief and loss. She also works with clients who are experiencing family/relationship problems. She earned her BA degree in Secondary Education from Clemson University in 1991 and a Master's Degree in Counseling from the University of Hawaii in 1993. Being a military spouse, she has practiced in Hawaii, Florida, North Carolina, and Virginia in various mental health settings, including an in-patient psychiatric hospital, on college campuses, and in private practice.

Thomas "Tom" Baker - M.DIV., LCSW
Tom's therapy is based on his conviction that the keys to mental health and wholeness are already within the individual. Basic to his approach is the belief that the human person is grounded in a spiritual reality, which is expressed in physical, psychological, and social forms. He treats depression, anxiety, trauma, relationship and communication difficulties, and life changes. His interventions include EMDR for trauma, Hypnosis, the Enneagram (fear type recognition), and Gestalt techniques. He works with both individuals and couples ages 18 and up. He also offers services for spiritual direction. His spiritual direction is based on his twenty-three years as a spiritual director, his life long study of the work of Edgar Cayce, ten years as a Catholic priest, and being a long time student and facilitator of A Course In Miracles. Spiritual direction is entirely different and separate from the work he does as a Licensed Clinical Social Worker. The goal of spiritual direction is the deeper realization in the direction of his or her spiritual identity and purpose. Spiritual direction is not covered by any insurance plans and is $75.00 an hour.

Tamika Daniel, MSW, Supervisee in Social Work
(Virtual Only)
Tamika holds a Master of Social Work Degree from the University of Southern California. She is furthering her education and currently in the process of obtaining her PhD in Social Work with a concentration in Family Studies & Intervention. Tamika has over ten years of mental health experience in both inpatient and outpatient settings.

She prefers to take a client-focused approach, which allows her to keep the client's needs at the forefront of her mind. She also utilizes a psychosocial approach that assesses psychological factors & social environment and how they impact a client's ability to perform.
She enjoys meeting new people and she is excited to assist First Colonial Psychotherapy Services in providing quality mental health services. She believes that taking care of our mental health is just as important as caring for our physical health. Personally, her faith is what helps her get through her toughest days, as well as deep breathing techniques and journaling. She is also a firm believer of "letting it out" (in a healthy and respectful manner), getting out whatever feelings or emotions that you may be experiencing, as it can be toxic to hold things in. Outside of her career and when she is not busy with her current studies, Tamika enjoys spending quality time with family and friends.
Dr. Nicole Wynder, LPC, LMFT, LSATP, MAC, NCC
(Virtual Only)
Nicole is a Licensed Professional Counselor in the state of Virginia and North Carolina. She is an innovative therapist, who can help you work through these tough times. She has several years of experience working with individuals ages 16 and up, couples and families. Her counseling style displays unconditional positive regard, dignity, and respect . Her therapy approach is diverse which includes cognitive-behavioral therapy (CBT), humanistic, psychodynamic and rational-emotive counseling. Nicole will tailor a treatment plan to meet the unique and specific needs of the client.

Dr. Kenyuatia L. Gash, LCSW, MAC, BCD, CCTP

*Supervision Only/Not Accepting Clients*
Dr. Gash is a doctorate level trained trauma expert and psychotherapist that has been working in the field of social work and mental health for 19 years. She provides clinical supervision for social work supervisees, and clinicians seeking CSAC certification.
Charles Liggio, LCSW- Founder
*Not accepting new clients*
Charles is a Licensed Clinical Social Worker who has been in the field for over 30 years. In 2003 he established First Colonial Psychotherapy Services. Over the years he has brought on many talented and empathetic clinicians as well as administrative staff who have a genuine interest in helping individuals and families. Although semi-retired he continues to have a genuine interest in the mental health needs of the community.